Infant Brace
the only brace for babies with a broken collarbone
What Doctors are Saying
Great product! This will revolutionize the care of infants with broken clavicles.

Dr. Woods, Kootenai OB/GYN
This simple but effective brace provides support for the infant in a non-restrictive fashion. My patients who have used it love it.

Dr. Craddock, Coeur D'Alene Pediatrics
There's nothing else like this available. It's a great product. I'm happy to be able offer it to my patients.

Dr. Fullmer, Utah Valley Pediatrics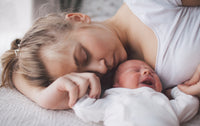 Developed by a Mother-Baby Nurse
Being a parent is hard enough without the added stress of your baby having a broken collarbone. When my baby was born with a broken clavicle, the doctors told me they didn't have anything to help. It was too hard for me to see my baby in pain, so I designed the Infant Brace. I used the things I had learned as a nurse to meet the unique needs of babies; helping them to heal safely.
Shop
Safety and Putting on the Brace
Get important safety information and see how to put the brace on your baby.
Go to our For Parents page for more information on how to care for your baby while their collarbone is broken.